So what is Jimdo?
Jimdo is a cloud-basedwebsite builder for creating websites, blogs and online shops. Jimdo was founded in 2007. Since then more than 25 million websites and more than 250,000 online stores worldwide have been created with Jimdo. Jimdo is used worldwide, but Jimdo is still strongest in his home country Germany.
In Germany Jimdo is the most popular homepage builder. How strong Jimdo is in Germany can be seen by the following comparison with Google Trends. You can see Jimdo compared to its biggest competitors Wix, Weebly, Webnode and Shopify. More users are interested in the website builder from Hamburg than in its competitors.
What does Jimdo actually mean?
The name of the company is an artificial word that developed from the phrase "Jim can do". For Jimdo's founders, making a website as easy as possible has always been a priority.
With the play on words and the resulting name Jimdo, they wanted to make it clear that with Jimdo everyone is able to create their own website. To this day, Jimdo sees itself as a partner for small businesses. With Jimdo's technology, the company wants to help small companies take control of their web presence. This should also be possible for companies with a small budget and little technical understanding.
Who are the founders of Jimdo?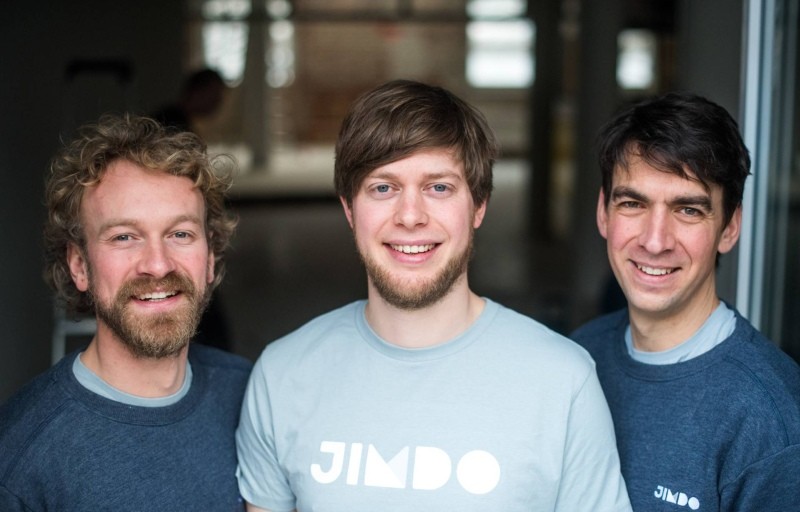 Jimdo was founded in 2007 by Matthias Henze, Christian Springub and Fridtjof Detzner. The 3 boys already had nothing else in mind as students but to program websites. And so at the tender age of 16 they convinced their parents to register a business for them.
Matthias Henze, Christian Springub and Fridtjof Detzner wanted to set up their own internet agency. The agency went so well that they built several hundred websites for their clients during this time.
The idea of starting Jimdo
The feedback from these customers ultimately led to the creation of Jimdo. Time and again, the customers expressed the wish to take the creation and further processing of the pages into their own hands. However, due to a lack of programming skills, this was not possible for most customers. So the 3 young men decided to develop a website builder with which everyone would be able to create his own website. Jim can do. One and a half years later it was time: Jimdo could start.
The Investors
Just 1 year after the founding of Jimdo – in 2008 – the company United Internet AG joined the company. 30 percent of the company was purchased. This cooperation did not last long, however, as Matthias Henze, Christian Springub and Fridtjof Detzner already bought back their shares in 2009. In 2015 another investor, Spectrum Equitiy, joined the company. The American company invested 25 million euros in the expansion and renewal of Jimdo. Spectrum Equity received a 26.7 percent stake in the company.
Why is Jimdo free?
Jimdo is a so-called freemium model. This means that customers have the opportunity to use a product permanently free of charge. Free use provides the user with a basic account with limited options.
With Jimdo, for example, the customer does not receive his own URL as part of the free package. Instead, the customer receives a subdomain, which allows visitors to the website to immediately see that it is a free website. In addition, every Jimdo Free website includes the Jimdo logo and a notice that the website was created with Jimdo. If the user wishes to remove these advertisements from their home page or use additional features that are not included in Jimdo Free, they have the option of switching to a premium package. The advantage of the Freemium model for Jimdo:
Faster growth, because users are much faster ready to sign up for free than for a fee
Free advertising on any Jimdo Free page
Customers have all the time in the world to test Jimdo without risk, can build their website and only when it is appropriate for them to switch to a premium package
Trust is generated with the customer, because only a company that is convinced of its product offers a free basic account.
When do you have to pay
The Jimdo Free Account is permanently free. You only have to pay when you actively choose one of the premium packages. If the free functions in the Jimdo Free Account are no longer sufficient for you, you can switch to one of the premium packages.
If you decide to upgrade, you will be faced with the choice of either Jimdo Dolphin or Jimdo Creator. Both Dolphin and the Creator start at 9,- Euro per month. The 9,- Euro monthly refers to the smallest premium package. The more extensive Premium packages differ slightly between Dolphin and Premium.
Costs Jimdo Dolphin
Jimdo Dolphin offers 5 packages to choose from: Play, Start, Grow, Ecommerce and Unlimited. Play contains the basic functions as well as a Jimdo subdomain. Thus Play is only suitable for private purposes and for testing the construction kit. Start includes its own domain and an ad-free website. The domain Grow contains additional features for search engine optimization, support and visitor statistics. But you should not expect too much from the SEO function. Beginners sometimes believe that by booking the Jimdo SEO function the website is already optimized for Google. Of course this is not so, because SEO is not that easy.
The right Jimdo package for your webshop
Ecommerce is the right package for your own online shop. With the Ecommerce package the use of product variants is possible. There is no sales commission. Unlimited also includes unlimited storage space, support within one hour and a design analysis. The costs
Play: free
Start: 9 Euro/monthly
Grow: 15 Euro/monthly
Ecommerce: 19 Euro/monthly
Unlimited: 39 Euro/monthly
Costs Jimdo Creator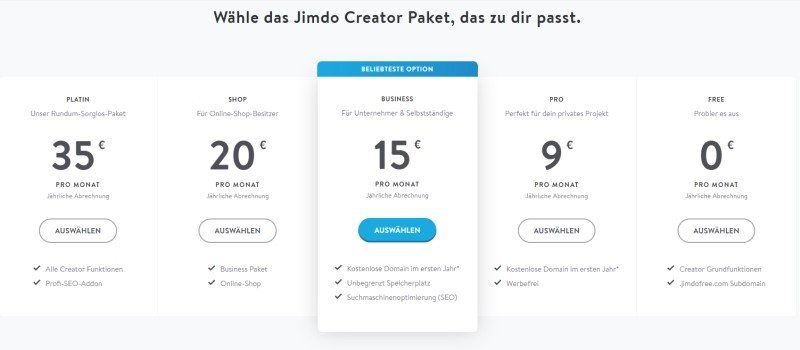 There are also 5 Creator packages to choose from: Free, Pro, Business, Shop and Platinum. With Free you get a subdomain as well as the basic functions of the Creator building set. The package Pro is free of advertising and contains one domain. Business also includes unlimited storage space and a Basic SEO feature. If you want to open an online shop on Jimdo, the package Shop is suitable. Platinum includes a professional SEO addon and the SEO tool Rankingcoach. The costs:
Free: Free of charge
Pro: 9 Euro/monthly
Business: 15 Euro/monthly
Shop: 20 Euro/monthly
Platinum: 35 Euro/monthly
Additional costs
Unfortunately, Jimdo is not very transparent when it comes to additional costs. If you want to know what Jimdo really costs, you should add these extra costs to the obvious package prices. So the domain is only included in the package price in the first year. In the second year you pay 20,- Euro for the domain. Further costs arise if you want to have an e-mail account for your domain. Jimdo Mail costs 12,- Euro per year per e-mail account. 
Domain: 1st year free of charge. From the 2nd year 20,- Euro/year
E-mail account: 12,-/year per e-mail account
When to pay
With most shop systems and building sets for websites, the user can choose between monthly and annual payment. Choose the annual payment method. If you pay an entire year in advance, there is usually a discount. Shopify, for example, gives you a 10 percent discount if you pay a year in advance.
If you pay 2 years in advance, there is even a 20 percent discount. Not so with Jimdo. Immediately after signing the contract, the full amount is due for 12 months. Especially for small businesses this is not the most customer-friendly solution. Here one would wish oneself a little more of the possible-maker mentality.
If 20,- Euro are too much for a shop
In the month 20, – euro for its own Onlineshop to spend, is not much. On the contrary. Nevertheless, the budget can be very small, especially for small businesses. What can you do if you are looking for an even cheaper way to create your own small online shop? 
Option 1:
Instead of the shop package you take the package Pro (Creator) for 9,- Euro and add a free Ecwid Store to the Jimdo Homepage.
Option 2:
You don't use Jimdo and instead create a Facebook Store with Shopify Lite for 9,- Euro per month.
The difference between Dolphin and the Creator
What is Jimdo Dolphin
Jimdo Dolphin has been around since the end of 2017. In order to make it as easy as possible for the user, a setup wizard supports the creation of the website or online shop. This makes the creation of a Dolphin page a semi-automatic process, so that a page can be completed in the shortest possible time. The advantage of this process is that it is really simple, fast and the designs look good. The results often look better than when creating pages with the Creator.
The disadvantage of Jimdo Dolphin
A disadvantage: The design possibilities are minimal for the user. What seems to be comfortable at first glance often becomes a nuisance if the user realizes that he has no possibilities to design his website the way he wants it to be. Therefore you should consider whether it is really okay for you if you only have limited possibilities to individualize the site. You have the option to change the package later via support, but you can then completely rebuild the page. But take a look and decide for yourself. Here are some pictures of Jimdo Dolphin:
Dolphin picture gallery
Click on the pictures to enlarge.
What is Jimdo Creator
The Creator is the classic Jimdo editor that lets you create and edit your website, blog, or online store. With Creator, you only need a few clicks to create the rough structure of your website. Then the website can be designed.
You specify what the site is about, whether you want to sell something, build a photographer homepage, create a food blog, etc. Thereupon you get a preselection of thematically fitting designs. As soon as you have decided on a template, the basic structure of the page is created. The shop can be individualized with your own texts and pictures. The big difference to Dolphin: There are more possibilities for individualization. Even if you often don't need them at the beginning, this can change in the course of time.
Creator gallery
Click on the pictures to enlarge.
Jimdo Designs
Which Jimdo design is best for your website or blog? And which design for your shop? Of course, you can't give a general answer, because the right design always depends on Thmea and the purpose of the site. Therefore you will be asked a few questions when creating your site. No matter if you create your site with Dolphin or the Creator.
The system will then automatically pre-select the best Jimdo templates based on your answers. From these design suggestions you can then choose a suitable template.
This also means that you will only get a limited selection of design options for your site if you answer these questions. So if you want to have the widest possible selection of templates, you should skip the questions when creating the website. 
Which package to choose
---

Jimdo Free: The free Jimdo Free Package is the perfect way to test the Jimdo Construction Kit in peace and quiet. Free use is not limited in time. Jimdo Free contains all the basic functions. You can also create a shop with up to 5 products. Since only one subdomain is linked to the free package and you can see advertisements, Jimdo Free is not suitable for a corporate site. 
What Jimdo Pro offers: Das günstigste Premium-Paket Jimdo Pro bietet Ihnen die Möglichkeit, eine eigene Domain für Ihre Website zu erhalten. Auch die Werbung wird weggelassen. Wenn du einen Shop erstellen möchtest, kannst du bis zu 15 Produkte hinzufügen.
What Jimdo Business Can Do: DThe medium package allows you to enter a meta description. This is an SEO function that should be taken for granted. The meta description is an important ranking factor. The package also contains a preview of how your page will probably look in the search results. You don't really get anything out of that. Theoretically, from the Jimdo Business package on, you have the possibility to add an unlimited number of products to a shop. But you shouldn't even think about that, because Jimdo is not suitable for big shops!
Jimdo Shop: Theoretically you can also create a shop with the smaller packages. But only the package Jimdo Shop offers an integrated addon with payment functions like Paypal, Sofortüberweisung, credit card and payment in advance. But Paypal Plus doesn't work.  
Jimdo Platin: The most expensive package offers the SEO Tool Rankingcoach as an additional service. In addition, a Jimdo employee will take a look at your website and make suggestions for improvement.
The best Jimdo blogs and sites
If you want to see the best Jimdo blogs, shops and websites, you can find them on the Jimdo website. Under Inspiration you'll find a number of well-done websites. The examples presented are from all industries.
Jimdo is also very popular with photographers, so you'll find a number of photographers' websites on the sample page. From wedding photographers to hobby and landscape photographers. But you can also find examples of tattoo shops, physiotherapists practices, artists and online shops.
Here it is noticeable that Jimdo is not only popular in Germany. Many of the example websites also come from other countries. The helpful thing on the site is that you can immediately see whether a page was created with Doplphin or the Creator.
Also on my website you can find a number of Jimdo examples. On the Jimdo Shop Beispiele page you can see 9 shop examples. On the Jimdo Website Beispiele page, you'll find 20 web pages & blogs. The special one: Some of the users talk in detail about their Jimdo experiences.
FAQ / technichal stuff
When does a Jimdo page go online?: That depends on whether you choose Dolphin or Creator. At Creator, your website is immediately visible online to everyone. With Dolphin, you decide when to publish your site.
The website is currently unavailable: If you receive a message saying that your Jimdo website is unfortunately unavailable, there may be several reasons for this. This is usually a technical problem that can be either on your site or on Jimdo itself. It is also possible that your site has been blocked by Jimdo. If the problem persists for more than a few minutes, you should contact Jimdo Support. Only they can give you a concrete answer.
Why can't my Jimdo page be found?: If your site is online, but still not found, this can have several causes. The first thing you should do is make sure that your page has been indexed on Google. To do this, enter the command site:www.deineurl.de in the Google search. If your page has not yet been indexed, log in to the Search Console and have your website indexed. If yours is indexed but not found, it's time to work on search engine optimization for your website. SEO tools like XOVI can help.
The domain is currently being registered: If you see this message in your Jimdo account, you have chosen your own domain. Now your domain has to be officially registered for you. This usually takes a few minutes, but can take up to 2 days.
How much storage space is available?: For the Creator: You have 500 MB for Jimdo Free and 5GB for Jimdo Pro. Jimdo Business, Shop and Platinum offer unlimited storage space. For Dolphin: 500 MB for Play, 5 GB for Start, 15 GB for Grow, 15 GB for Ecommerce and unlimited storage for Unlimited.
How many languages: Jimdo's homepage is available in English, French, German, Italian, Spanish, Dutch and Japanese.
How many levels: Regardless of the design, 3 navigation levels are available as standard at Jimdo.
Jimdo Support
One of Jimdo's biggest criticisms is the support. If you read reviews on the internet, you will always find criticism that the support is very slow. The fact that there is no telephone support is also a frequent point of criticism. Basically there is support only by e-mail.
The free packages Jimdo Free and Jimdo Play do not get support. This is understandable. In the case of premium packages, support is then provided by e-mail. According to the product description within 1-2 days. Only with the Dolphin Unlimited package there is an answer from support within one hour.
It is also not very customer-friendly that the support is only available on weekdays. This is not ideal for the numerous small companies that work on their pages on weekends. Other providers are more customer-friendly in terms of support. 
Advantages / Disadvantages
Advantages – 9 reasons to choose Jimdo
You can start with Jimdo for free. With Jimdo you can create a completely free homepage and use it without any time limit. As a domain name you get a subdomain of Jimdo with the free version. For many private site operators this is enough for the start. If you want a homepage without advertising, with your own URL and responsive design, you can pay for it with prices starting at 9 Euro per month.
The design with Creator and Dolphin is simple. The goal of the Jimdo founders Christian Springub, Matthias Henze and Fridtjof Detzner was from the beginning to make it possible for everyone to build their own website. Without programming knowledge or a background in web design. The result is a website construction kit that is consistently easy to use.
With Dolphin, the new website can be completed in minutes. At the end of 2017 a new product was launched: Jimdo Dolphin. In only 3 minutes the website should be finished by an automated process. You have to answer a few questions in the tool, whereupon a new website will be created with the help of artificial intelligence. Photos and content from existing social media accounts can be taken over by Dolphin.
There is a sufficiently large number of design templates – provided the requirements are not too high. The Creator Templates make it easy to create an appealing looking website. In order for the result to be really good, good photos should definitely be used. Additionally you can use CSS and HTML to adjust the look of the Creator. But then you should know a little about it.
Headquartered in Germany, Jimdo has a strong commitment to privacy and data protection.
An active community helps. On Facebook there is the Jimdo exchange group for Germany, Austria and Switzerland. Currently (June 2019) more than 3,200 members are active here. Questions about Jimdo are answered quickly and helpfully by the active community and the moderators of the group. No matter if it's a free account, a webshop, a blog or a website.
SSL encryption is automatically included. Nothing has to be set.
You can use Jimdo to create a homepage, blog and shop. When the company started in Hamburg in 2007, you could only build websites with the construction kit. Since 2010 you can create a shop as well as a homepage and since 2014 you can publish blogposts with your smartphone.
Jimdo is geared to the needs of individuals and small businesses. Prices, design and simple possibilities to implement your ideas on a homepage or in your own store – everything at Jimdo is geared to the requirements and needs of private individuals, small companies and self-employed people with a small budget. The designs are often less modern than what other suppliers have to offer, but for the target group the simple is sometimes more useful.
Disadvantages – 7 reasons which speak against Jimdo
A Jimdo Free or Play site seems unprofessional. With Jimdo free/play you can get your own homepage for free. Including https encryption and a subdomain from Jimdo. But a website without its own domain name doesn't look professional. That's why the free package is only suitable for private people, self-employed people should choose at least the Pro version.
The designs of many Jimdo sites are not really good. The Website Creator is easy to use, so virtually anyone can build their own website or even a small shop without outside help. The lack of know-how is then reflected in bad photos and an unprofessional looking website. But above all, it's the Jimdo templates that don't look very modern. Beginners have a hard time creating websites with good designs.
There are no interfaces to Amazon and Ebay. Very few shop operators can live on the income from their online shop. Therefore, they are dependent on sales via Ebay and Amazon. Many shop systems therefore offer interfaces to facilitate sales via the large marketplaces. Jimdo does not offer this possibility.
There is no possibility to import new products with Excel or CSV Daei. With Jimdo, you have to set each product individually in the store. That's why Jimdo is only for small shops with few products.
There is only one login access to the Jimdo account. If more than one person is to have access to the site, there is no possibility to maintain personnel accounts. So if you get support from a web designer or have employees, they all have to log in to Jimdo with your login.
There is no retail interface. Jimdo is also used by small stationary stores. Jimdo does not offer them the possibility to link their stationary shop with the online shop. Suppliers such as VersaCommerce or lightspeed enable even small stores to connect with each other online and offline.
The contract terms are inflexible. Monthly notice period? Jimdo has no notice. You have to commit to Jimdo for at least 12 months. The amount is due in advance. If you forget to cancel, the contract will be extended by 1-2 years.
How to cancel your Jimdo Account
If you want to resign, it is important that you observe the notice period. As with other providers, if you don't cancel, the contract will automatically renew. As the minimum contract period for Jimdo is 1 year, the contract will be extended by a full year.
If you have a 2-year contract, the contract is even extended by 2 years. So how can you cancel your Jimdo account? If you have a Creator Account, click on Edit in your account and open the menu in the upper left corner. Then click on Contract Content and click on Cancel Jimdo Contract. If you are using Dolphin, simply send an email to Jimdo Support to cancel your contract.
.
Jimdo Alternatives
WordPress
The world's most popular way to create a website or blog is with WordPress. WordPress is clearly one of the best Jimdo alternatives. Some Jimdo users are afraid of WordPress, because they think that WordPress involves more effort. In my opinion, this worry is unfounded.
If you take a special WordPress hosting, WordPress is already pre-installed, so you can start immediately. An absolute WordPress specialist is Raidboxes. At Raidboxes you can test WordPress completely without obligation and free of charge for 14 days, so that you can get your own picture of WordPress.
Especially positive about Raidboxes as a Jimdo alternative: There are no long contract terms, so you can always get out of the contract again. And the support at Raidboxes is a completely different league than at Jimdo. You can reach us 7 days a week via chat.
Just give it a try, until now I always had an answer within 1-2 minutes. For the free Raidboxes WordPress test click here (Partnerlink). An advantage of WordPress: There is a much larger selection of design templates, the design is more modern and so it is easier to create a really professional looking site.
WooCommerce
If you want to create a shop, you can also do it via WordPress. The most popular plugin is WooCommerce. I wrote a report about Woocommerce. You can also test Woocommerce for free via the WordPress specialist Raidboxes (affiliate link).
Weebly
Another Jimdo alternative for creating a website or blog is Weebly. Here it leads to my Weebly article and here directly to Weebly (affiliate link). Just like Jimdo, Weebly is a very simple construction kit. But the designs are more modern and the dashboard is in my opinion even easier than Jimdo.
Ecwid
A good alternative to a simple Jimdo shop is Ecwid. Ecwid is extremely easy and you can start for free. If your needs are small, you can even use Ecwid permanently for free. Ecwid is also suitable for a shop if you already have a website and only want to add a shop function to it.
Anders als bei Jimdo können bei Ecwid neue Produkte per CSV Datei hochgeladen werden. Hier geht es zu meinem ausführlichen Ecwid Bericht. Möchtest du Ecwid ausprobieren, dann hier (Partnerlink) klicken.
Unlike Jimdo, Ecwid allows new products to be uploaded via a CSV file. Click here for my detailed Ecwid report. If you want to try Ecwid, click here (partner link).
Shopify
Shopify is a very good way to create an online shop and a good Jimdo alternative. Very easy and fast to create, you don't have to worry about the technology with Shopify. It is easy to create a shop with Shopify, you have much more possibilities and interfaces than with Jimdo.
Shopify is therefore also suitable for larger shops. There is also a much larger selection of designs available. Here you can find a report from me about Shopify. If you want to test Shopify for free, click here (affiliate link).
BigCommerce
BigCommerce is still quite unknown in Germany, although the shop system is very flexible. Big commerce is already widespread in the USA. I haven't written a report on BigCommerce yet, but you can test BigCommerce directly here for free (affiliate link).
Create your own website now with Jimdo